About Us
At Amber's Piano Studio, we develop a love of music within our students through joyful, creative music-learning experiences. Our goal is to inspire students to engage with music for the rest of their lives, whatever their future may bring!
We offer piano lessons in various locations across Canberra, ACT. Please contact us for further information.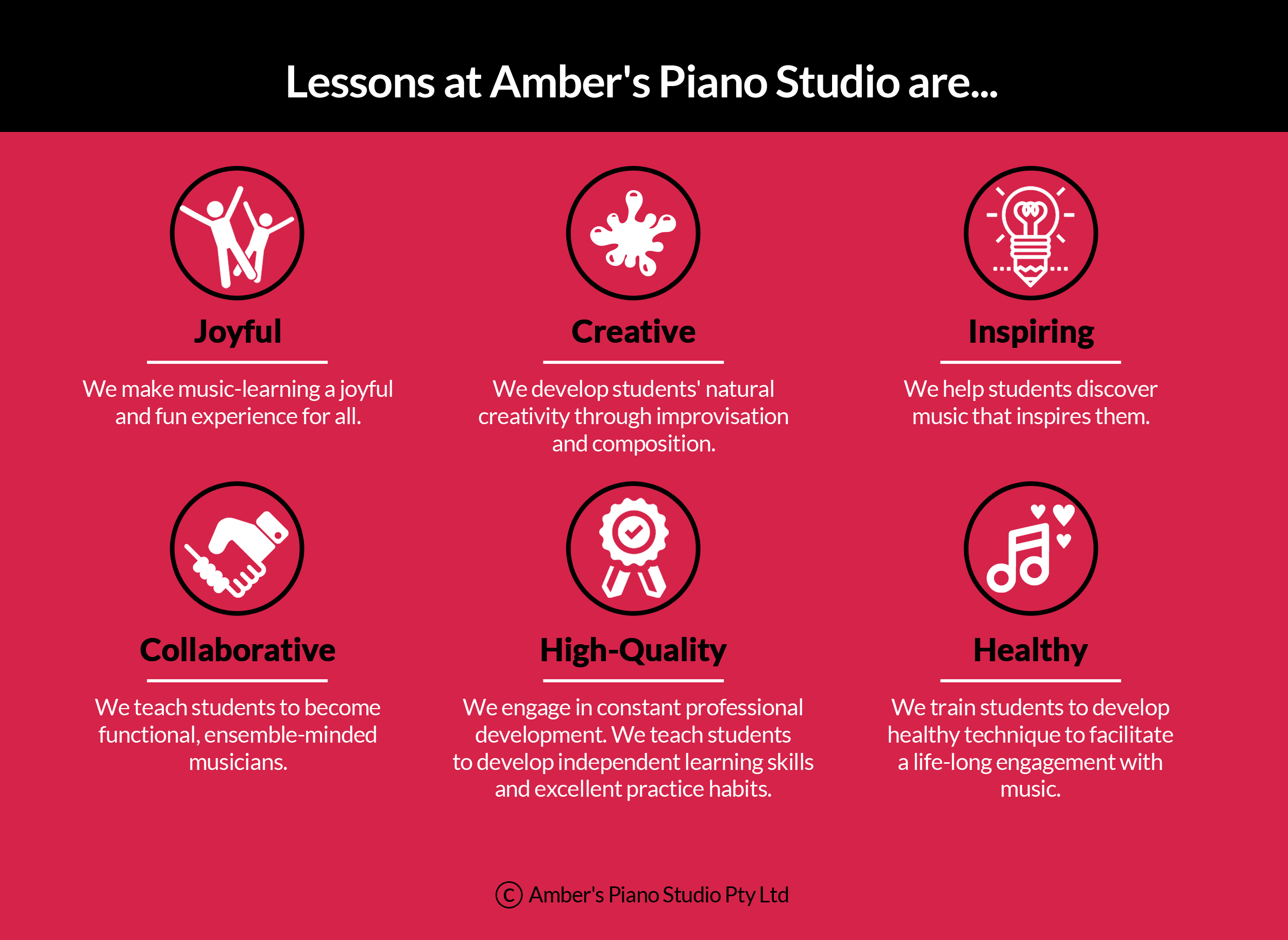 AMBER HARNISCH
Instrumental Tutor & Studio Owner | Studio music lessons (Chapman) | Accompaniment services

Amber commenced her piano studies at the age of 6. Upon graduating high-school, she went on to study a Bachelor of Music in Classical Performance at the ANU School of Music under the tuition of world-renowned pianist and educator Dr Geoffrey Lancaster and the mentorship of acclaimed Australian composer and pianist Larry Sitsky. Amber has performed both as a solo pianist and as a member of several piano and instrumental duos and trios on the South Coast and in the ACT, including performing as a soloist with the National Capital Orchestra at Llewellyn Hall. She has also worked as an accompanist for various choirs and musicians and continues to enjoy accompaniment and performance work in addition to teaching. Amber has been involved in music education since 2004 and holds a Diploma of Education in secondary music teaching. She has worked in several primary and secondary schools as a classroom music educator and choral conductor and is currently undertaking a Masters degree at the University of Sydney, researching best practices for delivering comprehensive music education in the private piano studio. Amber runs a multi-teacher music studio in Canberra, Australia, teaching her own piano students while supervising and mentoring her staff members and their students. Amber has presented at music education conferences in Australia and the United Kingdom and regularly delivers professional development workshops for other piano teachers. 
Amber offers piano lessons for individuals and small groups.
---
ELIZABETH HAMPTON
Instrumental Tutor | Studio music lessons (Chapman) | Online piano lessons
Elizabeth is a university student studying at the Australian National University. She has been learning piano and studying music theory since she was 6 years old and has achieved the Grade 8 AMEB performance certificate (comprehensive piano). Elizabeth loves to share with others the beautiful gift of music that comes with much practice and dedication. She has leadership experience with children of all ages and is passionate about teaching. Elizabeth hopes to learn just as much as she teaches and inspire joy as she encourages her students on their musical journeys.
---
ELLA RAGLESS
Instrumental Tutor | In-school music lessons for piano (North Ainslie Primary) | Online piano lessons
Ella is currently studying a Bachelor of Music at the Australian National University and has experience in performing and teaching music from many different genres, ranging from classical, Jazz, and musical theatre. Also a talented composer, Ella recently co-wrote and conducted the music for a modern musical take on Romeo and Juliet, which was performed successfully at the Belconnen Community Theatre in 2019. As an educator, Ella strives to help her students find the music they want to learn, so that they may enjoy playing piano as much as possible.
---
ZOE ZARKA
Junior Instrumental Tutor | Online piano lessons | In-home piano & theory lessons (available for the Inner South, Weston Creek, Molonglo Valley, Woden Valley, Tuggeranong Valley, Aranda).
Zoe is a college student and an accomplished pianist and flautist. She has leadership experiece with small children and is co-leader of her school band. Zoe intends to study music and music education at tertiary level and currently travels to student's homes to teach piano lessons, theory tutoring, and to offer practice support sessions. Zoe is extremely kind, patient, encouraging, and passionate about teaching music.
---
GEORGE ZHAO
Instrumental Tutor | In-school music lessons (St. Edmund's College & North Ainslie Primary) | Online piano lessons
George is a pianist, accordionist, and sonic artist who is a graduate from Shenyang Conservatory of Music with a major in Electroacoustic composition. He also holds a Masters in Music at the Australian National University. George started to play the accordion and piano since his childhood. As a musician and sonic artist, he has performed and exhibited his works many times overseas including Beijing International Electroacoustic Music Festival, Shanghai International Electroacoustic Music Week, a concert for academic exchange in De Montfort University, UK, and an Electroacoustic concert in the University of Oregon, USA; as well as performances across Canberra including the Canberra International Music Festival and National Science Week. George believes that learning music helps students to establish a positive character and a healthy self-image which will accompany them in their lifetime. He strives to be an inspiring music teacher and to bring happiness through music to his students.
---
♬ Joyful ♭ Creative ♩ Inspiring ♫ Collaborative ♮ High-Quality ♪ Healthy ♬